Getting some help when it has all gone wrong
So, its all gone badly wrong. Your PC won't start and you have 5,000 error messages on the screen, speaking in some foreign double speak and you need to get it fixed before the kids get home. Was there a bang and a burning smell and Auntie Sue is waiting for those photos? Your cat knocked coffee onto your laptop, so you tried drying your system out with a hairdryer and now the keyboard has melted and you have lost 3 months of coursework for University?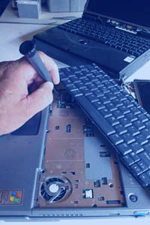 Sound a little far fetched? All of these are calls we have had over the years and the first key is not to panic. A wise man once said when at the bottom of a hole and in way over your head, it's time to realise you should stop digging. In general terms, there is very little that is unrecoverable, unless you have totally destroyed your system. We have even successfully recovered data from a laptop that the owner drove over.
Regardless of what the problem is, from virus removal, data recovery or complete system breakdowns, call and we will do all that can be done to get you back up and running again as soon as possible.
We can even give you a repair estimate for your insurance company if you need it and will tell you honestly if it is not financially viable to repair your computer
Whatever your IT requirements, Riktek can provide the friendly and helpful service you are looking for, so please call us on 01962 886777 or email to: sales@riktek.co.uk You have nothing to lose by asking and perhaps a lot to gain.