Website & Internet Hosting Services
We can provide website hosting for your company at sensible, low cost rates whether you are a sole trader or a multi-million pound business.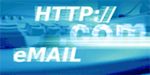 Our servers, based in London's Docklands, have enormous capacity - enough to suit even the most demanding customer. We can even provide dedicated load-balanced systems, strictly for your own use and even arrange rack space for your own systems, if that is your preference.
Examples of the sorts of services we already provide to our customers include:
Domain names (website addresses) from as little as £8 (+ VAT)
Full commercial standard hosting e.g. Microsoft Windows or Redhat Linux systems from as little as £36 p.a. (+ VAT).
PHP, MySQL, .NET, MSSQL, ASP.NET, CGI, FrontPage Extensions and a whole host of other things, all available as required
Email only hosting from only £12 p.a. (+ VAT).
Dial-up/pay-as-you-go, fixed fee access and a complete range of broadband services (in some cases a BT Telephone line will be required and terms and conditions will apply to access).
All of our services benefit from unlimited disk space and unlimited bandwidth(subject to fair use policy), what you see is what you pay. We can also add and remove services as your needs change.
A large range of add-on services can easily be incorporated including firewalls, anti-virus scanning and email spam filters. We can even provide technologies to synchronise with Exchange servers, or help with push email systems and give you management control over virtually all aspects of your hosted solution, or manage it for you.
Whatever your IT requirements, Riktek can provide the friendly and helpful service you are looking for, so please call us on 01962 886777 or email to: sales@riktek.co.uk You have nothing to lose by asking and perhaps a lot to gain.