Supporting your infrastructure
One of the problems with computers, websites and all things technical is that they rarely keep going unattended forever. Computers, peripherals and software get ever more sophisticated and complex and usually sooner rather than later they need maintaining, servicing or updating.
Help is at hand from Riktek and we can operate in just the same way as you would expect from your own in-house IT department but at usually substantially less cost. And as our company started life building computers we like to think there is little (if anything) we don't know about them!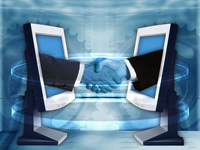 We can tailor the support to suit your needs from full site and system maintenance to providing you with an 'on-call' backup to your own skills. At whatever level you choose we feel sure you will be pleasantly surprised by the excellent value of this service.
Have an Apple Mac, or running Linux or Unix? No problem. We can provide specialist support for all your needs. Unlike many of our competitors, we ensure we have trained engineers available for virtually every Operating System and computer brand. After all, not everyone worships at the altar of Bill Gates or Steve Jobs.
Want somebody to help you remotely? Not a problem. Utilising a variety of technologies, Riktek provides support to domestic and commercial customers across the UK and Europe. If you just need somebody who can assist you if you have a question, but don't want the expense of calling an engineer on site, this may be the solution you need.
Whatever your IT requirements, Riktek can provide the friendly and helpful service you are looking for, so please call us on 01962 886777 or email to: sales@riktek.co.uk You have nothing to lose by asking and perhaps a lot to gain.